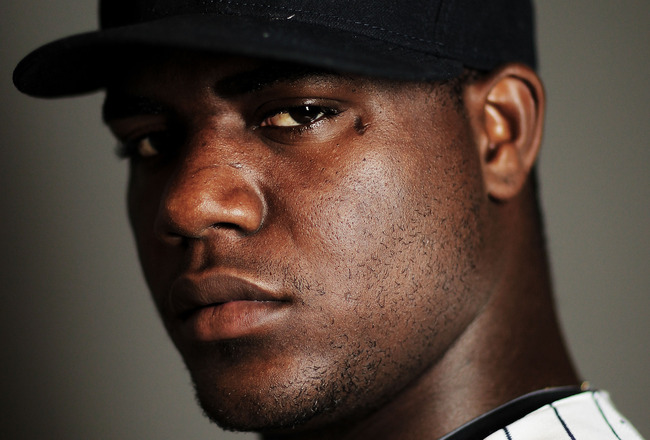 Hey Guise, I'm Intimidating; Re: 20lbs Overweight To Camp & Dodging Press Conferences.
So, baseball season's just around the corner. While I've been blogging about the Blue Jays, I'd like to take a second and just scratch my head for a bit.
Here's some Spring Training WTFs.
Gregor Blanco leads the league in steals. I laughed a bit.
Brandon Allen has finally been freed! Allen's notched 8 RBI to lead the spring after a handful of games.
Former prospect, Max Ramirez, leads the league in HR with 3. I thought he was dead, but apparently he just spent 2011 with the AAA affiliates of the Cubbies, the Astros and San Francisco. Basically dead.
Alfonso Soriano also has three home-runs. He spent 2011 with the Cubs. Again: Basically Dead.
Eric Sogard
leads the league in Runs with six. Surprising given the fact that he drives around in
this
or
this
.
Adam Dunn has walked three times and homered once this spring. In other news, 2011 didn't happen. In more Mayan-Calender(ish) news, Adam Dunn hasn't struck out in 2012. That's 4 at-bats and 7 plate appearances people.
Francisco Liriano is basically unhittable. Told you 2011 didn't happen.
Julio Teheran will be good and make millions of dollars, so let's just laugh at him now. So uh, he's played in one game and accumulated two innings. Unfortunately he's given up six hits in those two innings and --get ready for it because here comes the punch line-- each of those hits was a home-run. Teheran hasn't given a single base hit, double, or triple, he's only given up long-balls. After being told they were running low on balls, Teheran walked a batter.
Let's laugh at some other rich people: Tim Lincecum has given up 11 hits and 6 runs in 4 innings. Poor Jason Bulger: 2 Games, 1 IP, 6 H, 9 ER, 1 HR, 5BB -- He made 'em work for it, at least.